Calling all exquisite Bridal Jewellery Brands!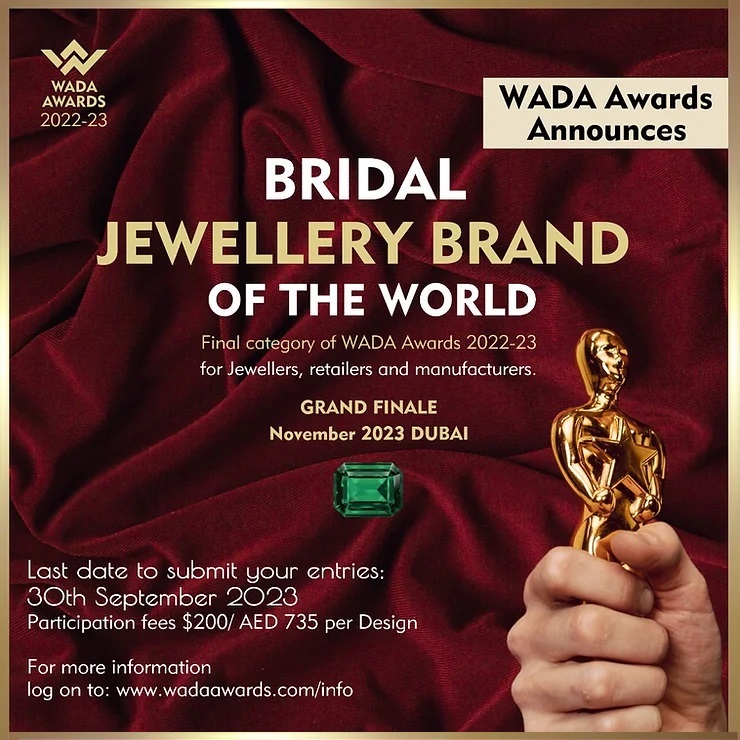 You are specially invited to join us at the prestigious World Jewellery Design Competition, The WADA Awards, celebrating the timeless union of Emeralds and Diamonds in Bridal Jewellery. 🎉
YOU can submit pictures of your ready-to-adorn BRIDAL Necklace Set and stand a chance for your Brand to be recognized as a top 10 Bridal Jewellery Brand of the WORLD 💎✨
Participation is simple and affordable, with a US $200 fee per design submitted. Let your creativity shine as our esteemed judges select the winners at the Grand Finale in Dubai 🏆
Join us in this dazzling journey where elegance meets innovation. Take advantage of this golden opportunity to claim your Brand's place among the elite bridal jewellery brands of the World. ⭐
Note: The top 10 selected pieces will be required to ship to Dubai on 1st November 2023 and will be returned on 25th November 2023.
Instant registration is open today until 30th September.
Visit the website at www.wadaawards.com/info to get started.
For more information concerning the ongoing Jewellery Design Competition (Jewellers Category), feel free to call or send your enquiries via SMS or WhatsApp to the following numbers:
+971566564296,
+971502942284,
+971561187005.
Email: info@wadaawards.com
Guidelines: www.wadaawards.com/info